In the world of entrepreneurs, creating ideas, working on them, and finding possible markets are absolute needs. And, to facilitate these, we need a set of unparalleled experiences. And hopefully, these needs can be fulfilled on the internet. Owing to the pandemic and other recent developments, it is highly recommended as the best move to go through these online courses and perfect your knowledge and doability. Although most people would give their thoughts that the certificates through these courses don't amount to your resume, we are not looking for a standard-sized beautiful resume. We are talking about skills and advice which can be acquired through these courses.
Among many of the sites available, Coursera has been listed here multiple times. And, the powerful nature of Coursera is that we can apply for financial aid and get the courses (with certificates) mostly free of cost. Most of the courses found in EdX are a bit expensive but it too has an option of financial aid application which avails the course at 90% free and a certificate of completion. Udemy does not provide financial aid. However, they provide a lot of discounts all around the year. Top institutes like Harvard, Stanford, Yale, MIT, and others provide free courses (limited time enrolments) and paid courses with certificates of completion.
The idea is to access good stuff with the least prices. Almost all the courses listed on the blog can be acquired free and the medium is all in English. Note that the serial is random and not in order of value. The reader determines the value on his/her own. Websites to access the courses have also been provided.
Here are the top online entrepreneurship courses available on the internet:
1. Entrepreneurship Specialization(Wharton School of Business)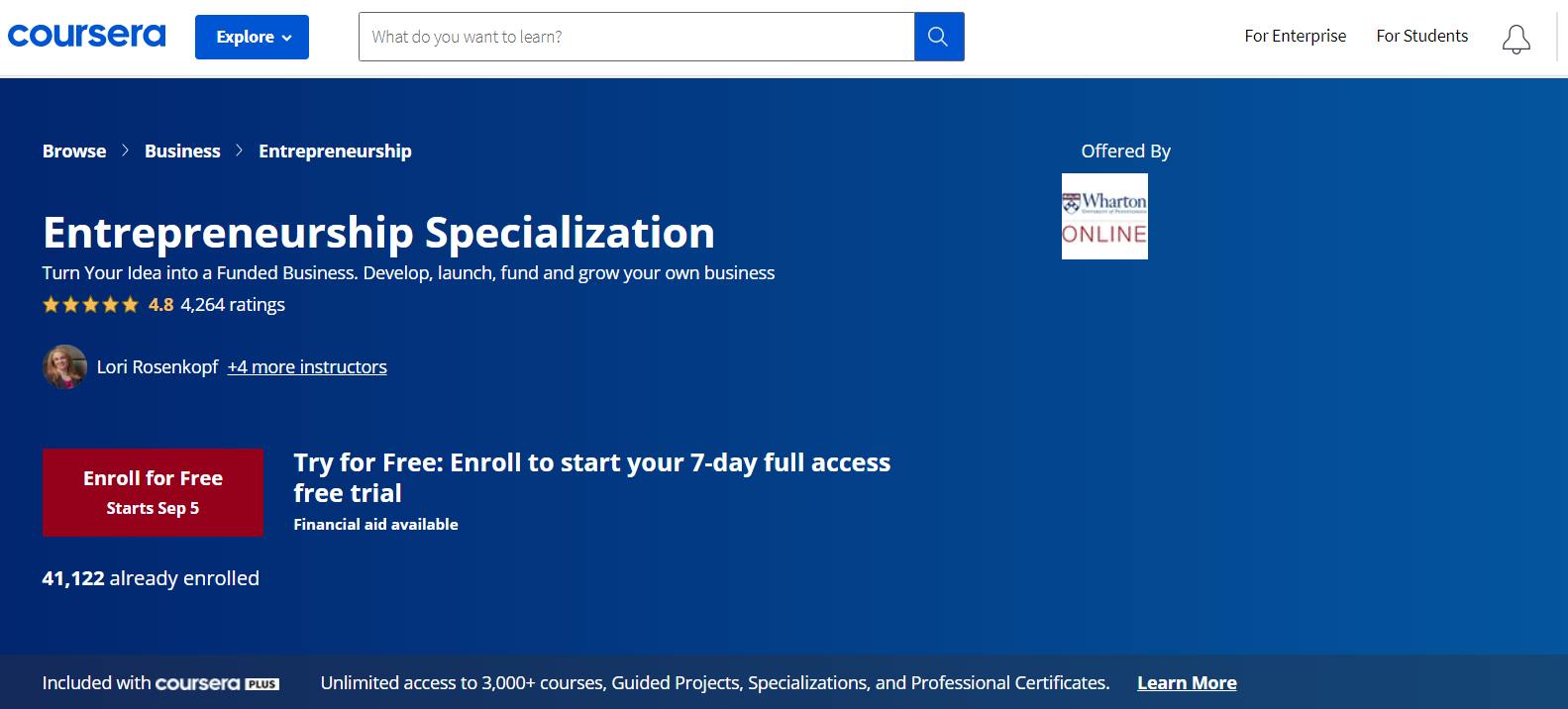 "Wharton's Entrepreneurship Specialization covers the conception, design, organization, and management of new enterprises. This five-course series is designed to take you from opportunity identification through launch, growth, financing, and profitability."
As interested in finance, I applied for this course and the greatest takeaway is that this course series gives you a lot of printed pdfs which include huge information to learn about the basics. It is comprised of 5 courses namely,
Entrepreneurship 1: Developing the opportunity
Entrepreneurship 2: Launching your startup
Entrepreneurship 3: Growth strategies
Entrepreneurship 4: Financing and profitability
Wharton Entrepreneurship Capstone
The last course includes a Wharton project to pitch in your entrepreneurial idea.
2. The Essential Guide to Entrepreneurship by Guy Kawasaki

Guy did not invent secular evangelism, but he popularized it. This goes back to 1983 and his work with the Macintosh Division of Apple. He is currently the chief evangelist of Canva, an online, graphics design company from Australia. He has over 30+ years of acute experience in this field. This course helps you build a solid foundation on the basics of entrepreneurship with Guy's uncensored advice.
"Whether you already have a detailed business plan or just a great idea that you're passionate about, you'll find value in the way this course breaks down the various concepts of entrepreneurship in an easy and accessible manner with plenty of real-world examples, tips, and tricks, and wisdom from a seasoned entrepreneur. Starting with Launching and Pitching, moving on to Fundraising and Team Building, and concluding with Marketing and Evangelizing, this course will take you through each step necessary to start your own business."
3. Innovation: From Creativity to Entrepreneurship Specialization(University of Illinois)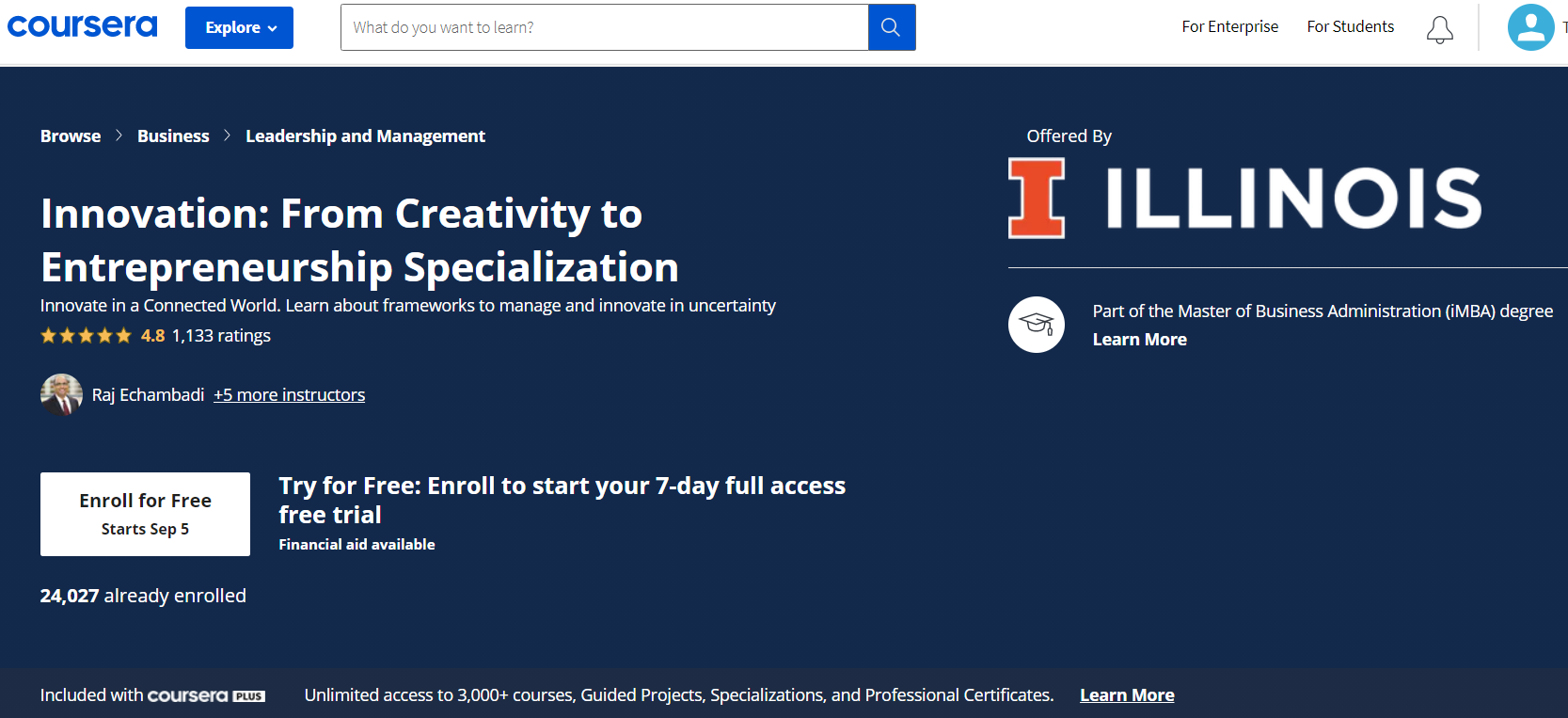 "In a world characterized by volatility, uncertainty, complexity, and ambiguity, leaders require robust innovation skills. Thinking flexibly and developing an entrepreneurial mindset are critical to thriving in uncertain business environments. This specialization addresses how to recognize and question assumptions and constraints to identify and capitalize on opportunities. Learning to change the rules of the game by creating innovative value propositions and discovering new market positions for sustained competitive advantage are some of the actionable lessons in this specialization."
This course mainly focuses on the innovative aspect of entrepreneurship rather than the latter part of the startup which is building it up from scratch. Every business/start-up consists of idea formation and idea execution. Both are equally important but so, the idea formation is often left out and the seven coursed specialization can give a glimpse of idea-making.
4. Private Equity and Venture Capital(Bocconi)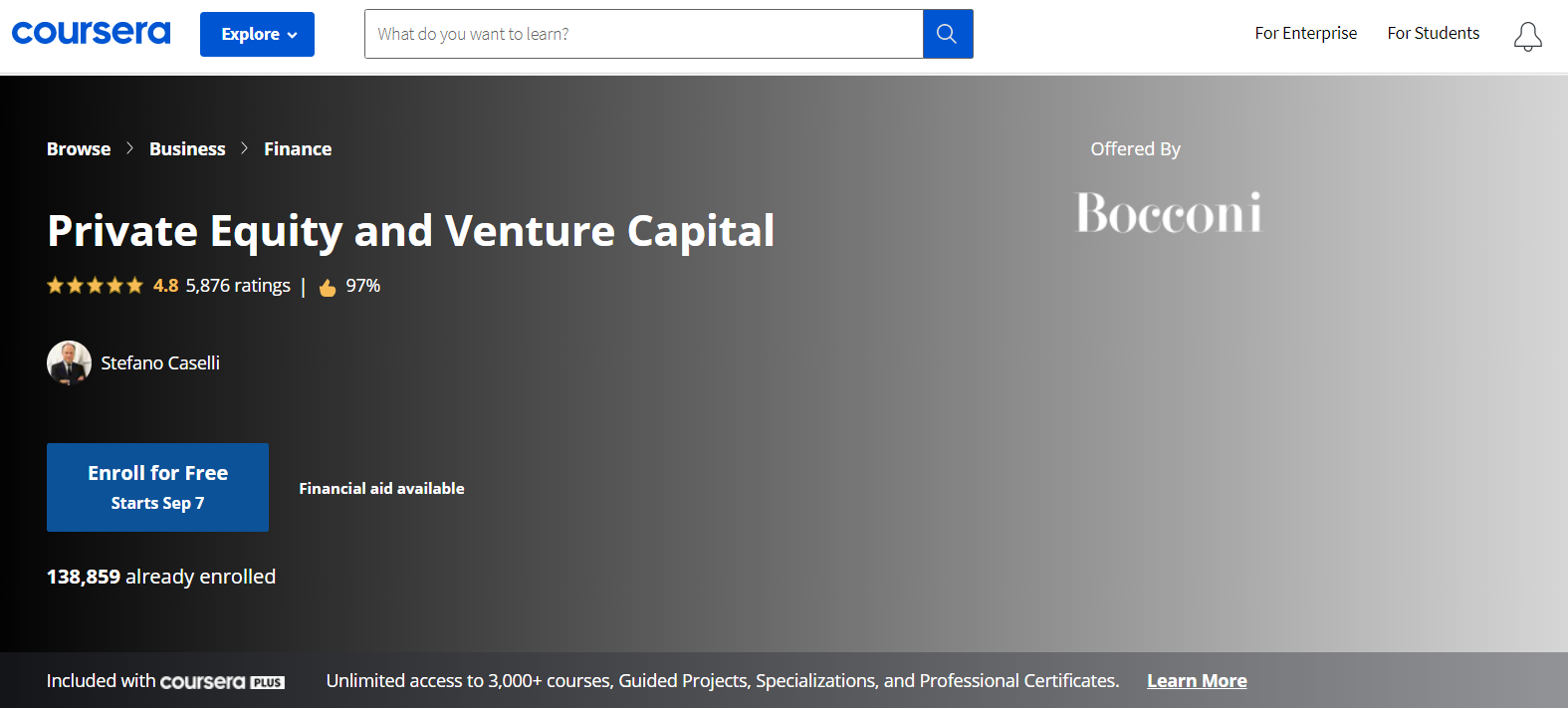 Over the course, students will be provided with a deep understanding of the mechanism underpinning the creation and/or development of a firm and the financial support it can get from the financial system through venture capital investment. The course tries to discover how special financial intermediaries (called private equity investors) finance through equity companies belonging to different stages of their life-cycle, starting from the very beginning (startup and early-stage) to a more mature phase (i.e. expansion, mature age, etc.) or also staying into crises and decline.
"Private equity (named venture capital when the company is in the first phases of its life cycle) deals with very different activities, such as scouting, advisory, deal-making, valuation, and financing as financial intermediaries see it."
5. Startup School(Y Combinator)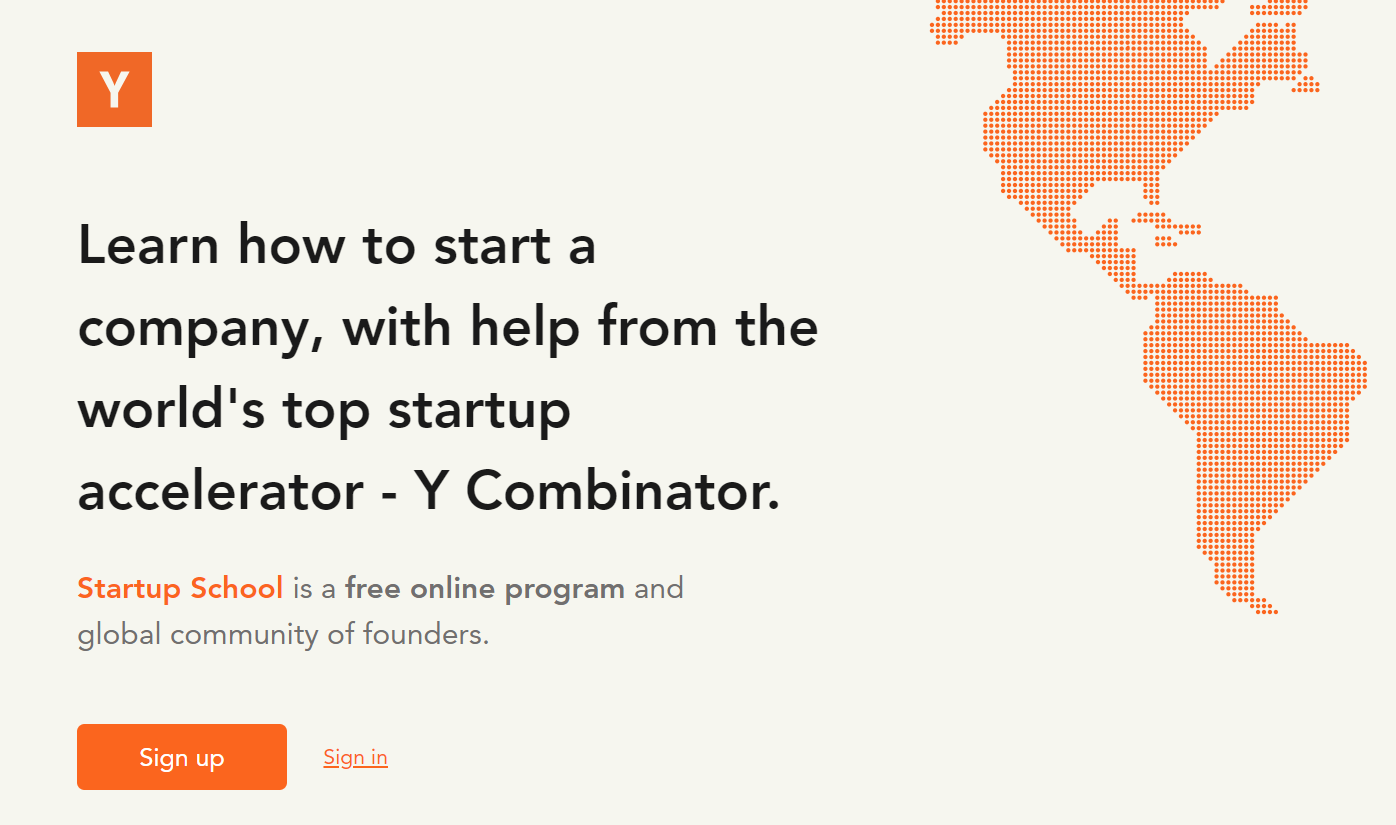 Y Combinator (YC) is an American seed money startup accelerator launched in March 2005. It has been used to launch more than 2,000 companies, including Stripe, Airbnb, Cruise Automation, DoorDash, Coinbase, Instacart, Dropbox, Twitch, and Reddit. The combined valuation of the top YC companies was more than $300 billion by January 2021.
The Startup School Curriculum was designed based on 15 years of YC's knowledge and advice on entrepreneurship. Your progress would be accountable through weekly updates. If you are thinking of starting a startup in the future, then there is the 'Aspiring founders track' which you can sign in to get access to what it means to be a founder and then generate and evaluate ideas for a company. Another add-on would be the CoFounder matching where you can find high-quality co-founders based on your preferences on background, skills, and interests and then start building your own company.
6. OpenCourseWare Entrepreneurship Courses(MIT)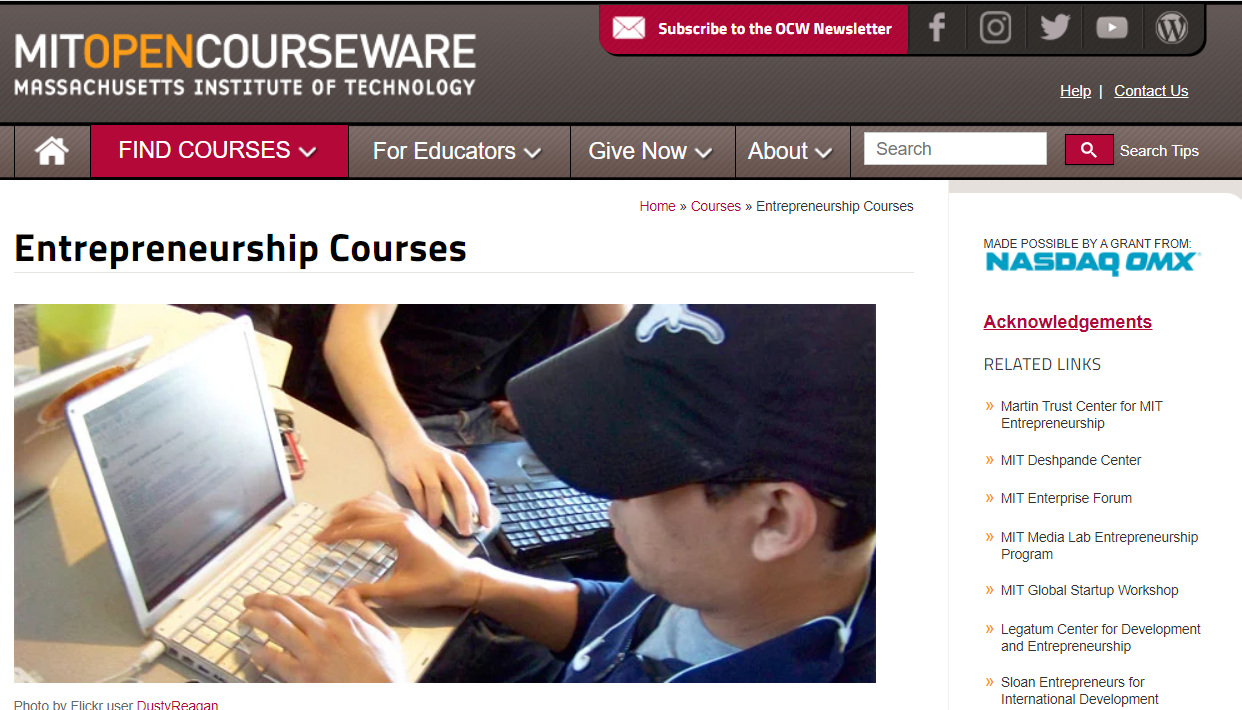 MIT OpenCourseWare (MIT OCW) is an initiative of the Massachusetts Institute of Technology (MIT) to publish all of the educational materials from its undergraduate- and graduate-level courses online, freely and openly available to anyone, anywhere. The project was announced on April 4, 2001,[1] and uses Creative Commons Attribution-NonCommercial-ShareAlike license. The initiative inspired a number of other institutions to make their course materials available as open educational resources.
Simply put, the site presents the core academic content — including lecture notes, syllabi, assignments, and exams — from nearly all of MIT's undergraduate and graduate curriculum. All content is offered freely and openly to support formal and informal learning around the world, whenever learners need them.
The course is divided into 'core' and 'supplementary': Core courses, the starting points for entrepreneurs, and Supplemental courses, important once the basics have been mastered. Packed with textbooks, videos, and other materials, it is a complete course on entrepreneurship which of course won't be favorable to students with a lack of reading mentality. The resource is so vast that you must have to go through multiple tabs to access the materials. However, some briefs about the course are to overcome top myths and get biased into facts, define goals, market research, choosing the right customers and right business opportunity.
7. Entrepreneurship in Emerging Economies(Harvard Business School)

Harvard Business School (HBS) is the graduate business school of Harvard University in Boston, Massachusetts. It is consistently ranked among the top business schools in the world[2][3] and offers a large full-time MBA program, management-related doctoral programs, and many executive education programs. It owns Harvard Business Publishing, which publishes business books, leadership articles, case studies, and the monthly Harvard Business Review.
The course provided by Harvard Business School, which is one of the finest business schools in the world takes on the aspects of developing entrepreneurship in emerging economies, India being one of them. And, another key takeaway is to identify points of opportunity for smart entrepreneurial efforts and propose and develop your creative solutions. The course instructor is Harvard's own professor Tarun Khanna. EdX would be the platform to access the course and there are four other courses on entrepreneurship available in Harvard's online program. It takes you on the journey of tackling complex social problems by involving entrepreneurship and innovation. The settings are diverse, sectoral(healthcare, online commerce, fintech, infrastructure), and geographic. But the emphasis is less on comprehensive coverage than on developing a way of thinking with a bias-to-action.